Gorge Amphitheatre | Quincy, Washington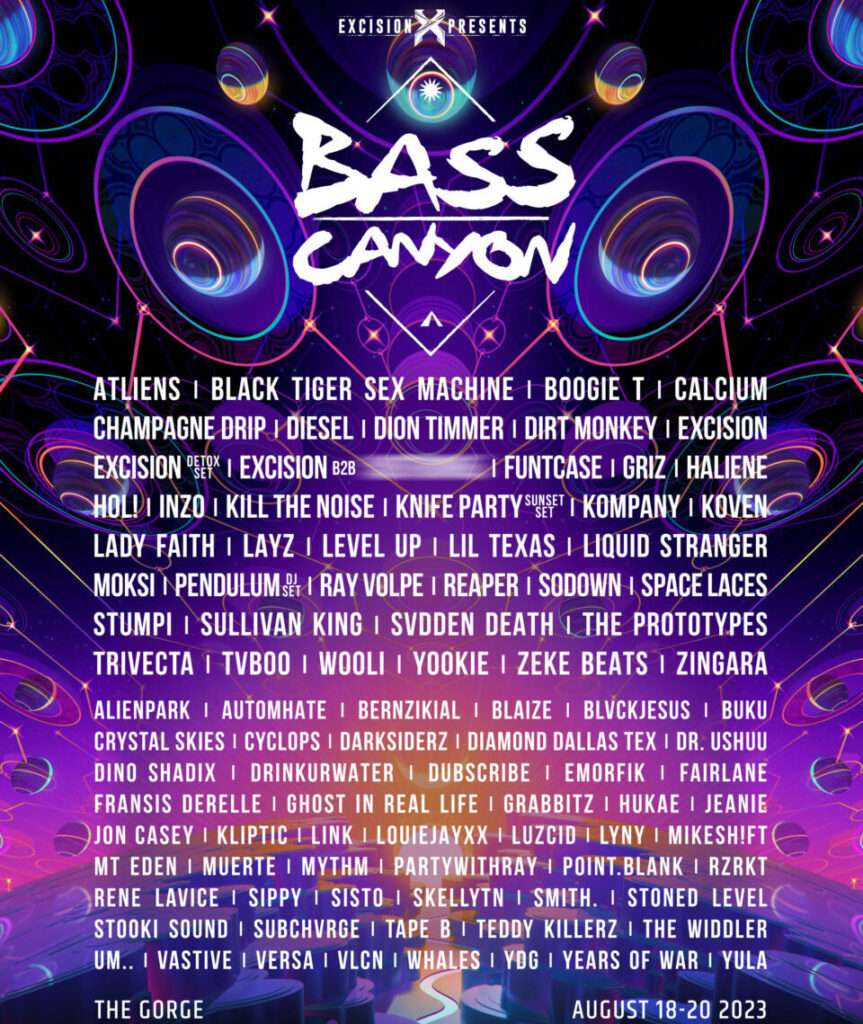 Get ready to stomp, groove, and shake the blissful Gorge Amphitheater to its core on Friday 18th August 2023!!
The Bass Canyon Festival is back and they've unleashed yet another impressive lineup of industry titans! While bass legends like Atliens, Black Tiger Sex Machine, Boogie T, Kill The Noise, Knife Party, Lady Faith, Level Up, Lil Texas, Kompany, Sullivan King, Svdden Death, and Dirt Monkey are headlining the festival, emerging trailblazers are also taking to the iconic stage.
Mark your calendars, gather your crew, and prepare for an awesome night that will go down in history!
Hosted by bass music legend Excision, festival goers can expect headbanging tunes, insane light shows, lasers, subwoofers, and huge immersive visuals! "Imagine a world consumed by earth-shattering bass vibrations. An apocalypse of twisting and morphing sounds that melt minds and make bodies thrash." - Excision
Since its debut in 2018, Bass Canyon festival at the Gorge Amphitheater has become the ultimate gathering for dubstep enthusiasts worldwide. Dubbed the "World's Most Beautiful Music Venue," the Gorge Amphitheater promises a festival experience of bass-fueled fun in the summer sun! What could be better than that?! PURE BLISS.
Excision knows exactly how to get the crowd going - he's rocked over 1000 mind-blowing shows and epic festivals across the globe. And now he's taking this energy and talent to bring you the most insane lineup of bass heavyweights! He's dropped 5 incredible albums and tons of singles, EPs, and mixes that have racked up a staggering 2 billion streams online. Just imagine jamming to hits like "Feel Something (With I Prevail)" or his filthy new track "Reasons" with The Devil Wears Prada and Wooli. This year, he's back with his patented "Detox" performance, B2B set featuring a mystery guest, whose identity remains a tantalizing secret. HUSH HUSH.
Prepare for an adrenaline-pumping experience! Secure your tickets now and mark your calendar, as this is a festival you absolutely cannot afford to miss!