Gorge Amphitheatre | Quincy, Washington
Still reeling in from his most recent Grammy win for Best Alternative Music Album, singer-songwriter and multi-instrumentalist, Beck, broke the news that his is embarking on an intensive 30-date summer tour dubbed as the "Night Running Tour". And he won't be running out into the night alone. He will be pairing-up with Cage The Elephant for this double-headliner tour. Fans from both sides of the camp are now on eager-beaver mode to secure seats to this back-to-back alt-rock fest. Act quickly, book your tickets now!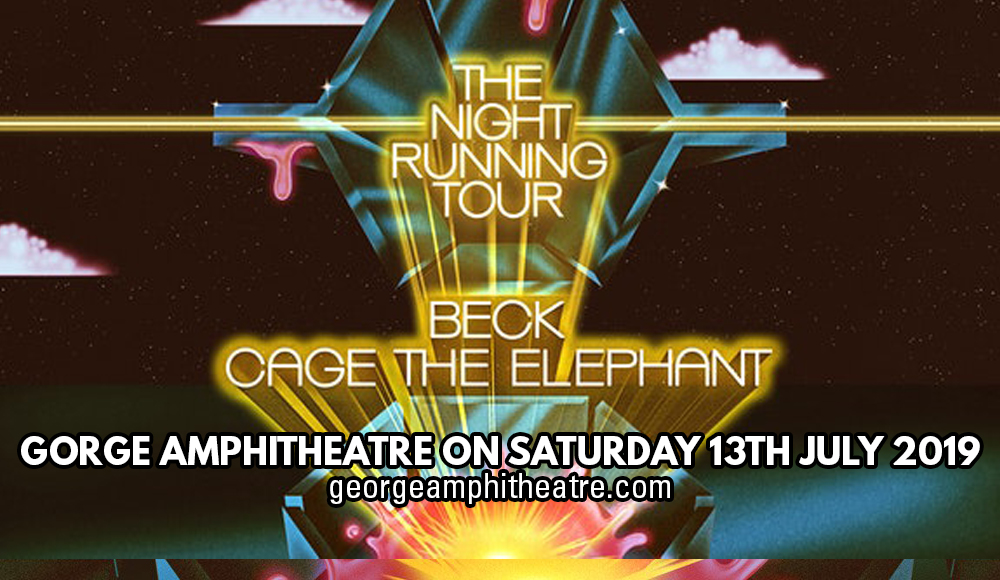 Music critics have a way of making or breaking one's career. But for music artists like Beck and Cage The Elephant, being at the close scrutiny of music critics actually worked to their advantage. They're one of the handfuls of acts who are lauded by the press, reviewers, and critics. But the real litmus test lies in the hands, or rather, the ears of audiences. And yes, both passed with flying colors, where their once curious listeners have turned to fans –a loyal bunch who have stuck with them and supported their music through and through.
Cage the Elephant has imprinted lasting impression that they're a formidable force not only with their album releases but on the live stage as well. They have played in many sold-out shows all over the world. They are marked for the hit singles "In One Ear", "Ain't No Rest for the Wicked" "Back Against the Wall", "Shake Me Down", "Around My Head" and "Aberdeen" In 2013, the album "Metophobia" garnered a four star rating from Allmusic. It delivered the hits "Come a Little Closer", "Take It or Leave It" and "Cigarette Daydream".
Beck seems to have an overflowing supply of creative juices. He started his creative pursuits when he dropped school in the 10th grade and started busking on the streets. He experienced what it's like to be a struggling musician. He was homeless, barely making ends meet on a shed along an alley in L.A. Then the gods of fortune smiled down on him when a record label signed him and released his single "Loser". From there, Beck turned from homeless musician to being a househod name. Radio's stations from eveywhere played it non-stop. His abun "Odelay" was certified gold in many countries, and platinum in the US, Canada, and New Zealand. He got glowing reviews from the critics and pocketed a couple of Grammy wins. Beck has 12 studio albums to his name; he stops at nothing to get wild and crazy ideas into the table and turns it into an art form. He continues to drawn in crowds in his live shows and is an inspiration to many music aspirants. Not bad for a guy who sang 'I'm a loser baby…'