Gorge Amphitheatre | Quincy, Washington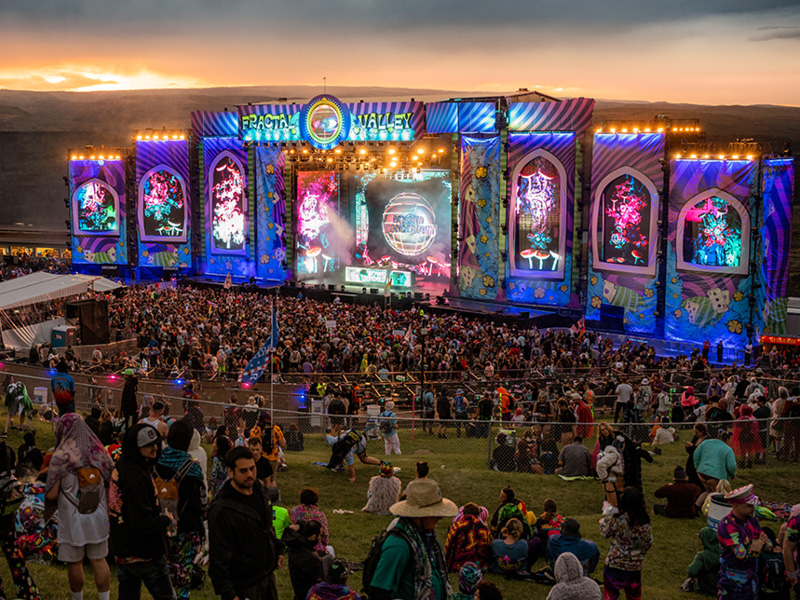 Grab a spot of tea with an impatient rabbit, that's late for a very important date, at Beyond Wonderland at the Gorge Amphitheatre on Saturday, June 17th 2023. Your first day of world-class EDM awaits, grab some tickets, find yourself a fancy hat, don't forget some sunscreen, and enjoy a crazy day of scavenger hunts, drag tea parties, shuffle workshops, silent discos, painting classes, Ferris wheels, paddle pools… and lots and lots of dancing! Yes, this is everything you could wish for from a festival in the most wondrous of settings.
Starting off at the main stage, Fractal Valley, hosting a diverse array of artists all day, you can look out at the incredible view of the gorge, while trying not to get distracted by any of the colorful, crazy characters wandering around, from Alice and the Queen of Hearts holding court with Formal Foxes, to lovely Leopard Ladies dodging supple stilt walkers offering cheesy grins as they direct you into the Cheshire Woods for a stunning laser light show set to curious sounds that will have you grinning your own cheesy smile. Finally chill out in Caterpillar's Garden with a plethora of delights will keep your mind occupied, until your feet start stirring once more, take in the thrills and frights of the carnival before crashing into a splash pool to cool down, then get lost in an otherworldly land of multidimensional environments, interactive feats of technology, and wonders of color and light.
World-class EDM artists abound! While the official lineup is yet to be announced, you are still guaranteed an exceptional variety, last year included; A Hundred Drums, AC Slater, Acraze, Alesso, Apashe, ATLiens, BIJOU, Black Tiger Sex Machine, Calyx & TeeBee, Champagne Drip, Chomppa, Chris Lorenzo, Cloonee, CloZee, Deathpact, Dombresky, Downlo, Dr. Fresch, Ekali, Elderbrook, Fisher, Frida K, The Funk Hunters, FuntCase, Getter, Green Velvet, HoneyLuv, Ivy Lab, J. Worra, James Hype, John Summit, Kaskade, The Librarian, Liquid Stranger, Lucati, Marauda, Moore Kismet, Mythm, No Thanks, Noizu, Nostalgix, PANDAmonium, Porter Robinson, Rossy, Sean Majors, sfam, SIDEPIECE, Smoakland, Tollefson, TroyBoi, Truth x Lies, Weird Waifu, Wenzday, Westend, Wreckno, and Zeds Dead. We'll update this list with this year's lineup as soon as it is out.