Gorge Amphitheatre | Quincy, Washington
Eric Church fans! Make the experience of seeing your favorite country star at the Gorge Amphitheatre even more special with a 3 Day Camping Pass! Create memories with your friends and fellow fans and enjoy nights under the stars, as well as two days of unforgettable music from one of country's best live acts! Starts Thursday 27th June 2019.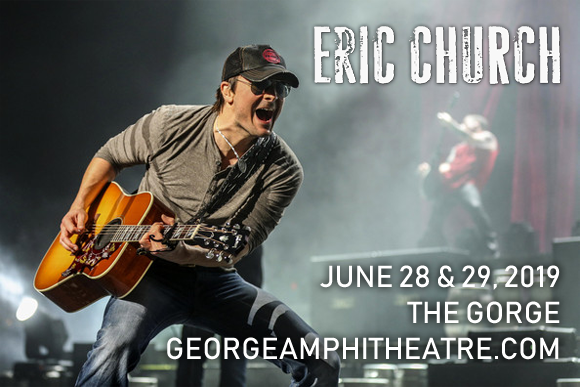 Originally making his name in the industry as a songwriter in Nashville, American country artist Eric Church co-wrote Terri Clark's 2005 single "The World Needs a Drink" and Dean Miller's 2005 track "Whiskey Wings" from the album Platinum before embarking on his own music career. Signed to Capitol Nashville in 2005, Church's debut album, Sinners Like Me, was released in 2006 and launched three singles that all reached the Top 20 of the Billboard country charts: "How 'Bout You", "Two Pink Lines", and "Guys Like Me". Church's third studio album, Chief (2011), hit number one on both the Billboard 200 and the Billboard Top Country Albums charts, and gave him his first two number one singles on the U.S. Billboard Hot Country Songs chart: "Drink in My Hand" and "Springsteen", as well as earning him a Grammy Award nomination. Throughout his career, Church has collaborated with artists such as Luke Bryan, Jason Aldean and Keith Urban. His sixth studio album, Desperate Man, was released in October 2018.