Gorge Amphitheatre | Quincy, Washington
After all these years, their gazillions of fans from all over the world haven't stopped believing, so they're still rockin' out the concert circuit and are about to take you on an enthralling sound trip. So buckle-up, for Journey! Your favorite arena-rock band, Journey announced their mammoth, five-month 2020 tour, and tagging along with them is the equally intense classic punk-rock outfit The Pretenders. One of their most anticipated stops is right here at the Gorge Amphitheatre on Saturday 16th May 2020. Frenzied fans are grabbing tickets by the minute. No time to waste. Hurry and get your tickets now!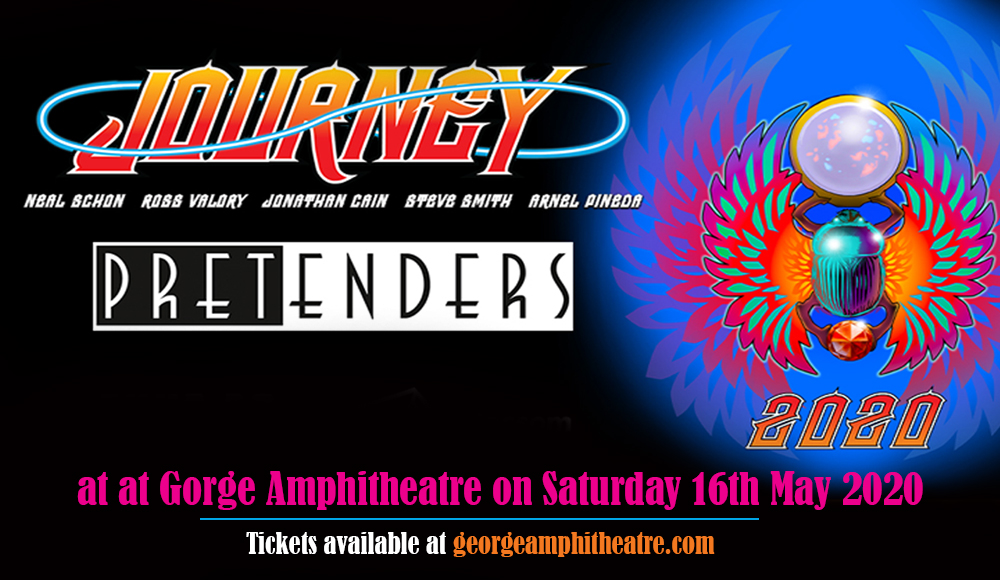 "Hits from start to finish". That's how Journey succinctly puts it, but their legions of fans know for sure that this concert is going to be heavily loaded with music from their best years, compelling showmanship, and tremendous energy and excitement. Long-time fans have traversed on this concert road countless times before, yet each show is revitalized with a wave of excitement, feels they're rockin' like it's 1981! "Don't Stop Believing" is the band's colossal hit that was released way back in '81, yet in 2009, it became the top-selling track in iTunes history among songs not released in the 21st century.
JOURNEY classics such as "Lights", "Faithfully", "Any Way You Want It", "Open Arms", "Wheel In The Sky", "Separate Ways (Worlds Apart)" and the seminal "Don't Stop Believin'"– are just some of their biggest hits that gave them one diamond, ten platinum (including seven consecutive multi-platinum albums between 1978 and 1987) and three gold albums. They scored a whopping eighteen Top 40 singles in the U.S., six of which reached the Top 10 of the US chart and two of which reached No. 1 on other Billboard charts. With 5 million records sold to their name, Journey is considered one of the world's best-selling bands of all time. A 2005 USA Today opinion poll named Journey the fifth-best U.S. rock band in history, and placed at No. 96 on VH1's 100 Greatest Artists of All Time.
Neal Schon (founding member and lead guitarist), Ross Valory (co-founding member and bassist), longtime members Jonathan Cain (keyboardist) and Steve Smith (drummer), and Arnel Pineda (lead singer) — these are your pilots onstage that will take you to stratospheric musical heights. So unfasten your seatbelts, this is going to be a rip-roarin' Journey!