Gorge Amphitheatre | Quincy, Washington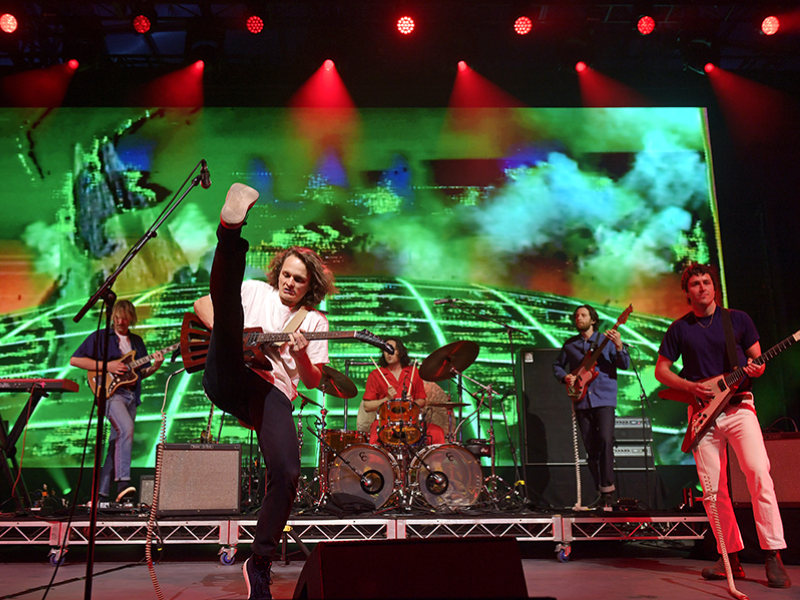 Surf-infused psychedelic rock is not dead - and this Australian seven-piece is here to prove it! STG & Live Nation present King Gizzard & The Lizard Wizard live at the Gorge Amphitheatre on September 14th of next year! With the announcement of their upcoming USA Tour, the band is setting out to promote their fresh and out-of-this-world album entitled "PetroDragonic Apocalypse, or Dawn of Eternal Night." These mega shows are guaranteed to be an endless party experience as the group promises three-hour marathon shows with no breaks for all the dates posted. You may know this band for bringing absolute fire tracks like "Head on/Pill," "Cellophane," and "The River." Watch out because these guys are ready to celebrate new tunes, new places, big vibes, and big love for all their fans out in Washington. Visit the Gorge Amphitheatre for the definitive watching experience of a live event that will transcend expectations! Purchase your tickets now while they're still hot!
Australian rock band King Gizzard and the Lizard Wizard slides into the Gorge Amphitheatre on Saturday, September 14th, 2024!
The extended solo concerts will begin on August 17th in Forest Hills, New York, followed by stops at Chicago's Huntington Bank Pavilion and Quincy, Washington's The Gorge Amphitheatre in September. The final show will take place on November 15th in Austin. Make sure you're prepared, as this trek promises three-hour performances on all the mentioned shows.
For more than a decade, their live presence has always been a huge part of their appeal. The album "I'm In Your Mind Fuzz" was critically acclaimed, being nominated for several honors, and was followed by records "Quarters!" and "Paper Mache Dream Balloon." The band currently holds two National Live Music Awards and eight Music Victoria Awards for varying categories.
Although fans have yet to see what their setlist will look like, viewers can expect to hear tracks from their recent album entitled "PetroDragonic Apocalypse, or Dawn of Eternal Night: An Annihilation of Planet Earth and the Beginning of Merciless Damnation."
Official Members contributing to this new album include Stu Mackenzie on leader guitar, Ambrose Kenny on vocals, Joey Walker on guitar, Michael Cavanagh on drums, Cook Craig on bass, and Lucas Harwood on lyrics.
Check out the track list here:
Motor Spirit
Supercell
Converge
Witchcraft
Gila Monster
Dragon
Flamethrower
Dawn of Eternal Night
Stay tuned because a lot more dates for the tour are about to be announced later this year on their official website for more information.
At their core, Far Out Magazine writes that the band's sheer virtuosity over the years has ultimately allowed them to transform into one of the most outstanding acts of the 21st century. "Whether you've only dipped your toes into their intimidatingly large discography or know every track they've put to tape, seeing the band live will certainly not disappoint. There was never a dull moment in the set, and I couldn't even be mad that they didn't play anything from my two favorite albums of theirs," the review continues.
The Gorge Amphitheatre is known as the top outdoor concert destination, holding only the best shows in Grant County, Washington! Everyone will get the chance to lean back and take in the scenery around the site, which overlooks the Columbia River Gorge and provides a panoramic vista of canyons, farms, and waterways that is just incredible to see in person.
Have a wild Saturday night with friends in this once-in-a-lifetime concert! Book your seats today!