Gorge Amphitheatre | Quincy, Washington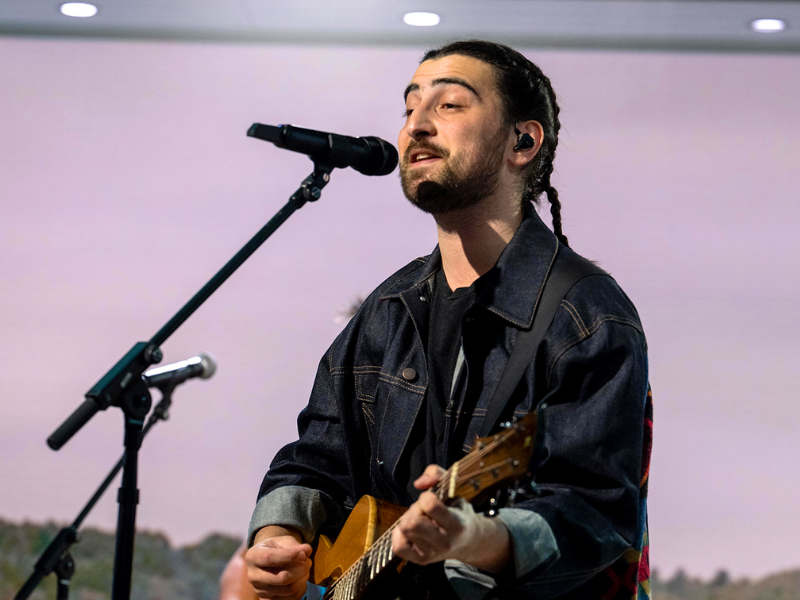 Forever seems to have stretched just a bit further! Delivering his "We'll All Be Here Forever" US Tour, Noah Kahan will visit the Gorge Amphitheatre live on Saturday, June 29th! The singer-songwriter has just dropped his new deluxe album "Stick Season," and it's sounding better than ever, debuting at the top of both rock and alternative charts since its release! This folk-pop icon has nowhere to go but up, boasting his recent record collaboration with Post Malone, as well as performances on Jimmy Kimmel Live and The Kelly Clarkson Show. Attend the live show and listen to viral hits, including "Young Blood," "Hurt Somebody," and his most recent banger "Drunk Dial"! If you're looking for a sign to see Noah Kahan at the Gorge Amphitheatre - this is it! The outdoor concert venue in Grand County is the place to be if you want to experience this indie event in its prime. Buy your tickets now before they run out!
Indie alternative singer Noah Kahan will grace the stage at the Gorge Amphitheatre on Saturday, June 29th, as part of his largest-scale headlining trek to date!
Just recently, the artist added extra back-to-back shows in New York City, Denver, Nashville, Asheville, St. Paul, and Boston less than a week after announcing the official dates for his "We'll All Be Here Forever" North American Tour.
"I don't think there is any combination of words that could truly capture my disbelief at the response to this tour announcement," the 26-year-old singer mentioned on X. "I never imagined any version of my life playing out this way, but here we are, adding even more shows to the WABHF tour."
Kahan began authoring songs at an early age, which led to his exposure through YouTube and SoundCloud. Signed now under Republic Records, the American folk singer has been consistently touring and producing music since his chart-topping hit "Hurt Somebody" went gold in the US and peaked in many other countries, even before his debut album Busyhead was released.
His latest album, "Stick Season: We'll All Be Here Forever," is praised by many journals for the warm and nostalgic feel it brings. "The album delivers on all fronts, pulling at your heartstrings and hitting way too close to home as much as its predecessor did, further cementing Kahan as a rising star on the indie-folk scene," The Post shares about the record.
Can't wait to be part of the chorus? Take a look at the Vermont native's setlist highlighting tracks from his latest album.
"WE'LL ALL BE HERE FOREVER" ALBUM TRACKLIST
Northern Attitude
She Calls Me Back
New Perspective
Everywhere, Everything
Your Needs, My Needs
Maine
Growing Sideways
Paul Revere
All My Love
False Confidence
Call Your Mom
You're Gonna Go Far
Orange Juice
Dial Drunk
Noah Kahan at the Gorge Amphitheatre is shaping up to be one of the biggest folk-pop events of next year, and with the venue's top-tier acoustics and rowdy stage effects, you don't want to let this opportunity pass by! Save the date - June 29th - for a night of intense music that touches the soul. Grab your tickets today by hitting that "Get Tickets" hyperlink above now!