Gorge Amphitheatre | Quincy, Washington
Once again, jam band legends Phish will be taking to the Gorge Amphitheatre stage on Friday 15th July to blow your minds! The psychedelic improv giants are back for a two night run, ready to wend their way through their illustrious back catalog, twisting and turning the music in a way that only they can! Don't miss this immersive feast of the senses, as the Phish fellas deliver you a night that you will never forget!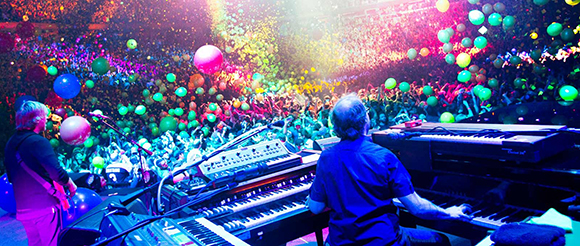 American jam band pioneers Phish hail from Vermont and formed in 1983. Consisting of Trey Anastasio, Mike Gordon, Page McConnell and Jon Fishman, the band is known as a forerunner of the improv band scene, and are famed for their lengthy jams and blending of musical genres (including funk, progressive rock, psychedelic rock, folk, country, jazz, blues, bluegrass and pop). Another thing that the band are known for is their loyal and dedicated fan base, rivalled only in their devotion by Grateful Dead fans, who often travel miles to see them perform, following the band on tour and recording and sharing tapes of their shows. Phish have released thirteen studio albums over the years, and toured ceaselessly for two decades before taking a five year hiatus. They reformed in 2009 have been playing live shows regularly ever since.