Gorge Amphitheatre | Quincy, Washington
Three days of Phish kicks off at Gorge Amphitheatre on Friday 20th July 2018!!! The iconic jam-band will be getting groovy at The Gorge once more – the iconic jamband has played the award-winning venue sixteen times over the past twenty-one years, proving themselves as firm Washington favorites! Don't miss the opportunity to see one of North America's most legendary live acts at one of the world's most beautiful venues!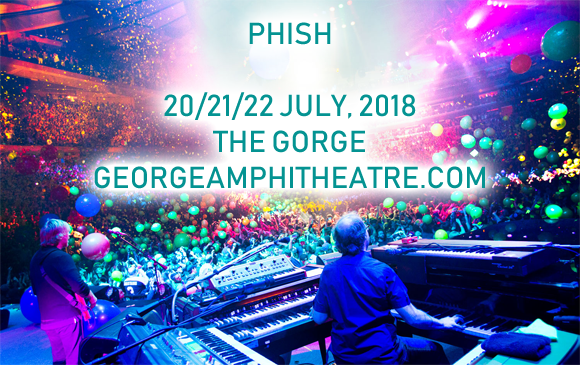 Phish are an American rock band, formed at the University of Vermont in 1983 by founding members Trey Anastasio, Jeff Holdsworth (both guitarists) and drummer Jon Fishman. With the addition of keyboard player Page McConnell, the current band line-up of "Trey, Page, Mike, and Fish" has played together on and off since 1985. Known for their sprawling, improvised jams and eclectic musical influences, Phish have a cult following akin to the Grateful Dead and fans travel the world to see them perform live. Forerunners of the jam band explosion, Phish have sold over 8 million albums and DVDs in the United States, having released 13 studio albums to date.