Gorge Amphitheatre | Quincy, Washington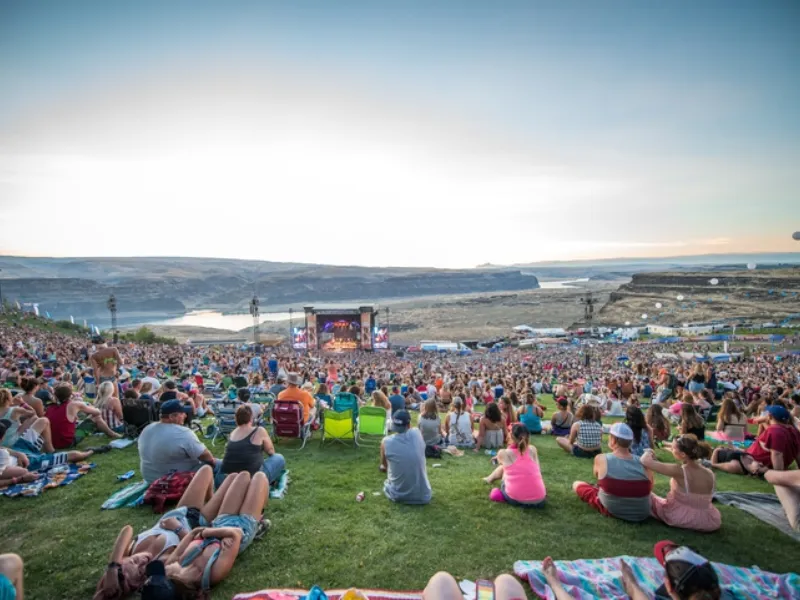 'Shedders, MAKE SOME NOISE! Friday's got us all heated up, so let's get goin' to the Watershed Festival's Saturday spectacle on August 3 at the Gorge Amphitheatre. Twelve months since its last outing and twelve years since it all began. The Watershed Festival invites everyone from across the US (and beyond!) to a spankin' new 3-day bonanza. Contests. Games. Fairs and markets. Wait, is that a waterslide? There's no shortage of entertainment here at the Gorge Amphitheatre, the traditional festival venue featuring awe-inspiring panoramas of canyonlands along the Columbia Riverscape. Now, hold your horses! Surely you didn't forget the concerts starting at 2 pm? Promising the most groundbreaking talents in country music, these multi-stage events will send you on a goosebump-inducing musical journey till the moon and stars shine. Festival passes, and wristbands are coming out soon! Get ready to grab yours for the Watershed Festival's Saturday party at the Gorge Amphitheatre on August 3, 2024.
The fun is just getting started! Come join the Watershed Festival's Saturday outing on August 3 at the Gorge Amphitheatre for a new day of entertaining activities and a new wave of country music stars on stage.
Commemorating twelve years of smashing success, the Watershed Festival is back for another 3-day weekend of contests, fares, and show-stopping concerts. Every day, visitors from the fifty states converge in tents and sections in the ground area to participate in a wide assortment of entertainment.
The 2024 list of activities is still a work in progress. Maybe they'll do another Saturday-exclusive event–last year's was The Dating Game!–but for now, here's the 2023 arrangement for a potential preview:
Campsite Contest
Waterslide
Festival Fare
Kickoff Party
Misting Stations
'Shedder Market
Official 'Shedder Gear
Lawn Games
The Dating Game
T-Mobile Magenta Lounge
Trading Post
Redneck Waterpark
Photo Opp
White Claw Photo Moment
Shedderville
Before the clock strikes 2 at midday, make sure you're settled in nicely at the multi-stage concert platform. Come watch country music's most cherished musicians sing the sun away past the horizon and into the starry ocean of the night sky.
The 2024 line-up is still under wraps. For now, here's 2023's for a glimpse of the star power you can expect.
Headliners
Cody Johnson
Keith Urban
Lainey Wilson
T-Mobile Main Stage
Carly Pearce
Parker McCollum
Kameron Marlowe
Ernest
Niko Moon
Warren Zeiders
Wade Bowen
Travis Denning
Tennille Townes
Kylie Morgan
Conner Smith
DJ Rod Youree
Next From Nashville
Mackenzie Porter
George Birge
Aaron Raitiere
Alexander Ludwig
Pillbox Patti
Chayce Beckham
Madeline Edwards
Ben Chapman
Avery Anna
Ella Langley
Landon Parker
Ben Burgess
Peytan Porter
Carter Faith
Lauren Watkins
Nestled in the idyllic landscape of Grant County, Washington, the Watershed Festival makes its annual appearance at the Gorge Amphitheatre. Beyond the event's raucous festivities, guests can enjoy the breathtaking vistas of the Columbia River's surrounding canyonlands.
"Never in my life have I experienced a festival such as this!! It's GINORMOUS!! I loved every single minute of the music on both stages, and the line-up was a great mix of old and new. The grounds are well maintained, and the event staff were all very friendly and helpful. All in all, it's a great festival that I think everybody should attend at least once in their life."
Be part of the exciting Saturday ramp-up of the Watershed Festival on August 3, 2024, at the Gorge Amphitheatre, Grant Country, Washington. Stay on your toes - festival passes, and wristbands will be out soon!