Gorge Amphitheatre | Quincy, Washington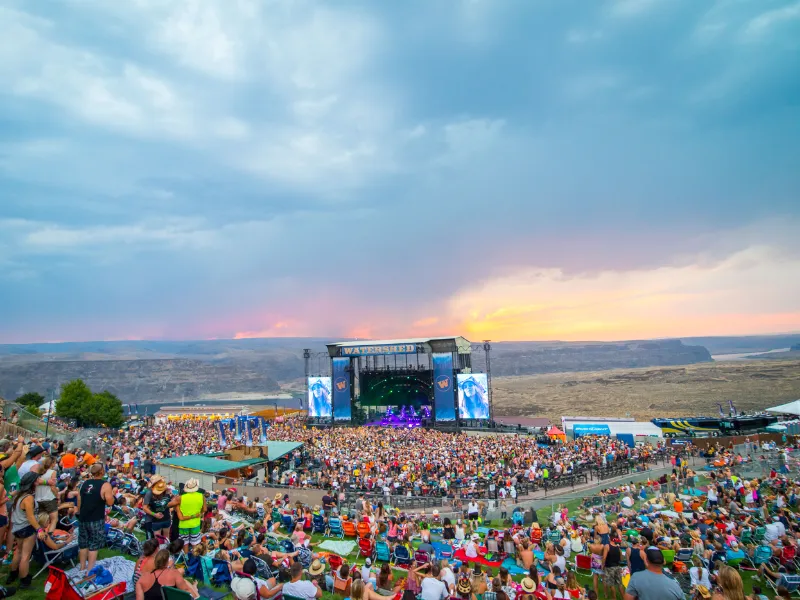 It's been one hell of a weekend with you, fellow 'Shedders, and we hope to see you in this year's Watershed Festival finale on August 4 at the Gorge Amphitheatre! Twelve years and counting, the Watershed Festival returns for another 3-day celebration of the genre that conquers rush hour radio in the United States. Featuring the hottest country music stars from the last decade or so, this annual event promises a boot-stomping concert show every day around 2 pm. But wait! Don't forget to engage in a wide assortment of fun activities across the ground area, from thrilling games to waterparks and bustling fares. As is tradition, the Gorge Amphitheatre in Grant County, Washington, will host this exuberant experience with its scenic views of the Columbia River and surrounding canyons. Get ready to snatch your festival passes and wristbands soon for the Watershed Shed Festival's Sunday send-off on August 4, 2024, at the Gorge Amphitheatre, Washington!
Brace your cowboy hat for the epic conclusion to Watershed Festival 2024 at the Gorge Amphitheatre on August 4! In this all-day country music affair, you and your friends can let your Southern spirit loose with the genre's BIGGEST icons and a plethora of fun activities.
"Wow! Absolutely amazing event - I say that not only because the Gorge is a naturally gorgeous venue on its own, but because of how well the rest of the festival was run. It far exceeded my expectations and I felt like my only job was to have fun."
Every year since its introduction in 2012, the Watershed Festival welcomes travelers from all over the nation in 3 days of exciting activities, camping, and of course, musical exhibitions. Every day at about 2 pm, the event delivers a multi-stage concert showcasing the richness and diversity of country music, including its fusions, sub-genres, and other derivative forms.
The 2024 lineup is still in the works. Check back with us soon for the most recent artist reveals! In the meantime, here's last year's lineup so you'll know what kind of star caliber to expect.
Headliners
Cody Johnson
Keith Urban
Lainey Wilson
T-Mobile Main Stage
Carly Pearce
Parker McCollum
Kameron Marlowe
Ernest
Niko Moon
Warren Zeiders
Wade Bowen
Travis Denning
Tennille Townes
Kylie Morgan
Conner Smith
DJ Rod Youree
Next From Nashville
Mackenzie Porter
George Birge
Aaron Raitiere
Alexander Ludwig
Pillbox Patti
Chayce Beckham
Madeline Edwards
Ben Chapman
Avery Anna
Ella Langley
Landon Parker
Ben Burgess
Peytan Porter
Carter Faith
Lauren Watkins
Prior to the shows, attendees can participate in an assorted array of activities scattered across the event grounds. 2024 activities are still in the works. We'll keep you posted on the latest developments on this front, but meanwhile, here are last year's ventures:
Campsite Contest
Waterslide
Festival Fare
Kickoff Party
Misting Stations
'Shedder Market
Official 'Shedder Gear
Lawn Games
The Dating Game
T-Mobile Magenta Lounge
Trading Post
Redneck Waterpark
Photo Opp
White Claw Photo Moment
Shedderville
Need a quick break from the festivities? Sit back and feast your eyes on the Gorge Amphitheatre's surrounding spectacle. Situated by the Columbia River Gorge, our venue offers a sprawling view of canyons, farmlands, and waterways that pictures can't do justice.
Finish this weekend's getaway with a toast and a bang! Secure your festival passes and wristbands soon for the Watershed Festival's Sunday finale on August 4, 2024, at the Gorge Amphitheatre, Washington.