Gorge Amphitheatre Seating Chart
The Gorge Amphitheatre offers some of the most spectacular views in the world from any music venue. Wherever you sit you will able to have full view of the stage and enjoy the spender of the scenery.
If you're looking to dance and get close to the action, ensure you get yourself some PIT tickets to get as close as possible to the stage!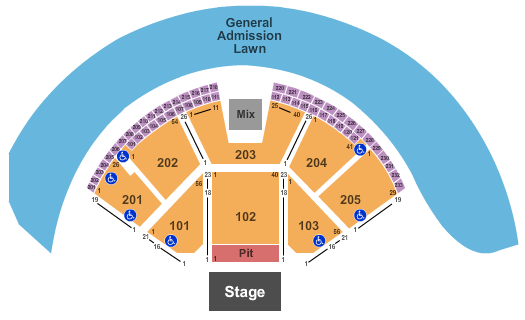 The colors in the image above represent the different prices for areas in the venue. The General Admission area is the lawn, which offers no set seats… so turn up early to grab yourself the best spot!
Accessible seating
There are accessible seating ticket options for reserved seating, but not for general admission, if you require accessible seating for general admission areas please visit guest services for relocation. Please utilize the guest services vehicles if needed, to get to your seats.
Capacity
The whole venue offers over 20,000 seats which includes the lawn area.