Gorge Amphitheatre Seating Chart
The Gorge Amphitheatre offers some of the most spectacular views in the world from any music venue. Wherever you sit you will able to have full view of the stage and enjoy the spender of the scenery. Gorge Amphitheatre is an incredible venue with room for around 27,500 guests across a general admission lawn and pre-set seating. The colors in the image below represent the different prices for areas in the venue.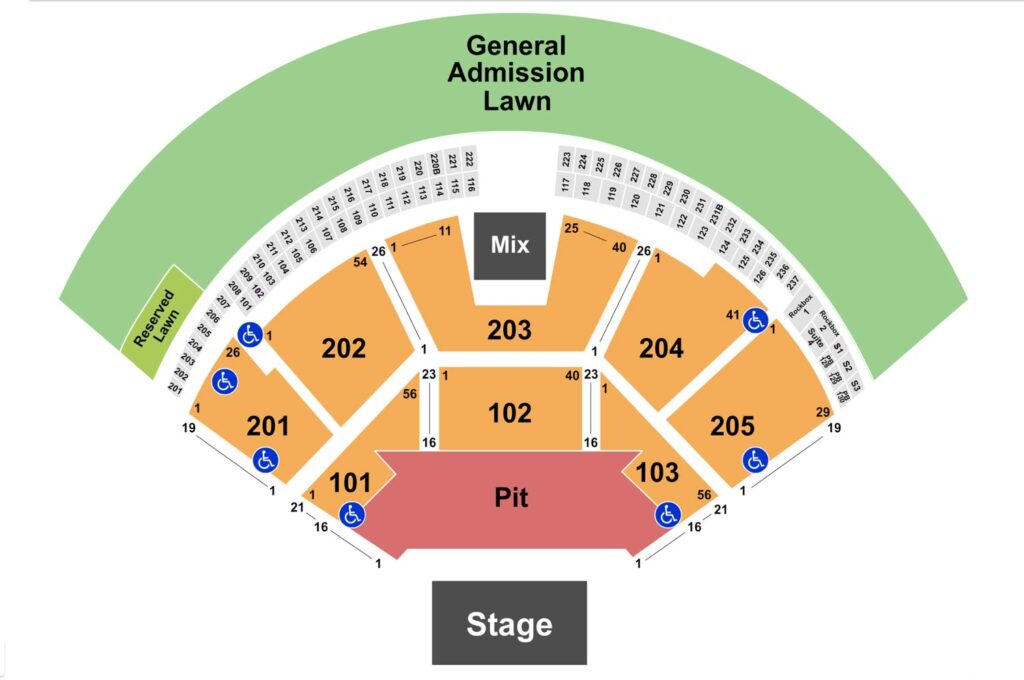 Reserved Seating
If you're looking for the closest view of the stage, then registered seating sections 101-103 are your best bet. However, section 102 is directly in front of the stage and may be the most expensive tickets in the house. Seats in the second row are also great choices if you want to be closer to the stage as they are designed with clear sightlines in mind.
PIT
If you're looking to dance and get close to the action, ensure you get yourself some PIT tickets to get as close as possible to the stage!
General Admission Lawn Seating
The General Admission area is the lawn, which offers no set seats… so turn up early to grab yourself the best spot!
Accessible seating
There are accessible seating ticket options for reserved seating, but not for general admission, if you require accessible seating for general admission areas please visit guest services for relocation. Please utilize the guest services vehicles if needed, to get to your seats.
There is accessibility seating and companion seating available at all price ranges in the reserved seating section. Please be aware that this seating is offered on a first come, first serve basis and if you order late, they may not be available. You can call the venue at (206) 607-3440 to request emergency ADA seating if an emergency forces you to require assistance.
Please be aware that the natural terrain of the Gorge is rough and hilly. For those needing assistance, a special services vehicle can transport physically challenged patrons from the main gate to a drop-off point close to the lower bowl. There is also a special services vehicle available to transport disabled patrons from the campground to the Amphitheatre. Space is limited to one disabled guest and one aide/companion. At the conclusion of the show, shuttles from the venue back to the main entrance and campground are available.
Capacity
The whole venue offers over 20,000 seats which includes the lawn area.