Gorge Amphitheatre | Quincy, Washington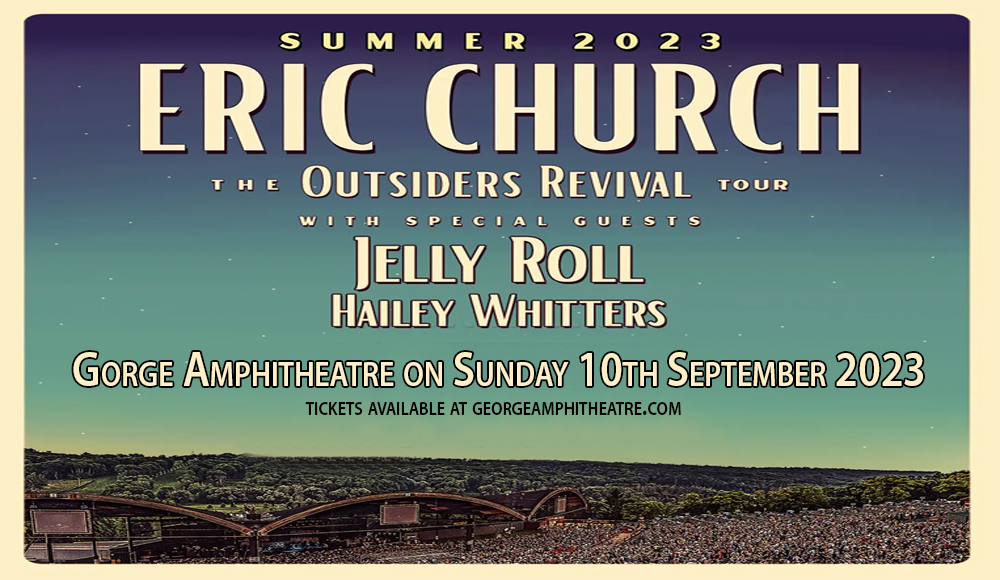 Country-rock hitmaker Eric Church is launching his first extensive outdoor tour, hitting amphitheaters across the country. The Outsiders Revival Tour brings his hard-hitting country hits along with an extensive list of special guests. Coming to you live at Budweiser Stage on Friday, 7th of July 2023, the set features Jelly Roll & Hailey Whitters as its opening acts. Fresh from a Top Country Tour of 2022 award for his 55-date The Gather Again Tour, the "Springsteen" singer aims to bring a new rockin' experience to live country music. Don't miss out on The Outsiders Revival Tour by booking your tickets now!
Amidst a sea of mainstream country-pop music with tales of girls, trucks, and alcohol, Eric Church throws in hard-hitting rebellious country-rock anthems that hit deep. Hailing from North Carolina, the singer finds his humble beginnings performing gigs at a local bar, singing covers and a few of his early material. From dive bars and restaurants, Church quickly rose to widespread attention for his debut single "How 'Bout You". From then on, the singer's audience grew bigger and bigger, amassing a slew of hit singles throughout his career. In 2022, Eric Church bagged Billboard's Top Country Tour of 2022 for his 55-show The Gather Again Tour which features live renditions of songs across his seven studio albums.
Following his waves of success over the past two years of touring, the man isn't taking a break as he launches his first-ever full-outdoor tour trek, bringing along a slew of guest performers, with various dates featuring different artists. Performing at 26 cities across US and Canada, The Outsiders Tour is surely one heck of a rockin' experience.
The Outsiders Revival Tour will feature a slew of special guests across every show. June dates will feature Ashley McBryde, Parker McCollum, and Morgan Wade. Koe Wetzel, Travis Tritt, and Muscadine Bloodline will open for July dates. Cody Jinks will take the stage on four shows in August, while the latter tour dates will have Lainey Wilson, Jelly Roll, Jackson Dean, Hailey Whitters, Paul Cauthen, and Whiskey Myers.
The Outsiders Revival Tour follows his award-winning The Gather Again Tour, promising a rockin' experience for Eric Church fans as it's the "season of sunshine with some fellow outsiders that shine brightest when the sun goes down."
Fresh from taking home the Top Country Tour of 2022 award, the man shares, "every night when we hit the stage there's a moment where I think we can't go any harder; then we see someone in the crowd who reminds us how fortunate this time is together because they're so in it," recalling moments from his tour. "To take home this award means that we all came through this together because we believed we would, and we did. And music did that. Country music did that." he added."
His latest release is a three-part album, with its first two installments, "Heart" and "Soul", released in April 2021. Its final package, "&" followed in 2022 after being an exclusive offering to the Church Choir, his fan club. The album series includes his new hit singles "Stick That in Your Country Song", "Hell of a View", "Heart on Fire", and "Doing Life with Me".
His hit singles over the last decade include "Smoke a Little Smoke", "Drink in My Hand", "Give Me Back My Hometown", "Talladega", "Like a Wrecking Ball", "Record Year", and "Hell of a View".
Hitting the stage in an all-outdoor tour trek, make sure you've got your spots at the Outsiders Revival Tour saved by booking those tickets now!