Gorge Amphitheatre Information
Best in the world
One of America's premier outdoor concert venues, The Gorge Amphitheatre is a 20,000 plus seat concert venue that has played host to some big name performers such as Coldplay, Dave Matthews Band, Pearl Jam, Nickelback, The Police and more. The Gorge Amphitheatre is located in the rural town of Gorge above the Columbia River in Washington, just 10 miles northeast of Quincy.
The Gorge Amphitheatre is also one of the most scenic concert locations in the world offering spectacular river gorge views and concert friendly summer weather as well as lawn terrace seating. Don't believe us? See for yourself…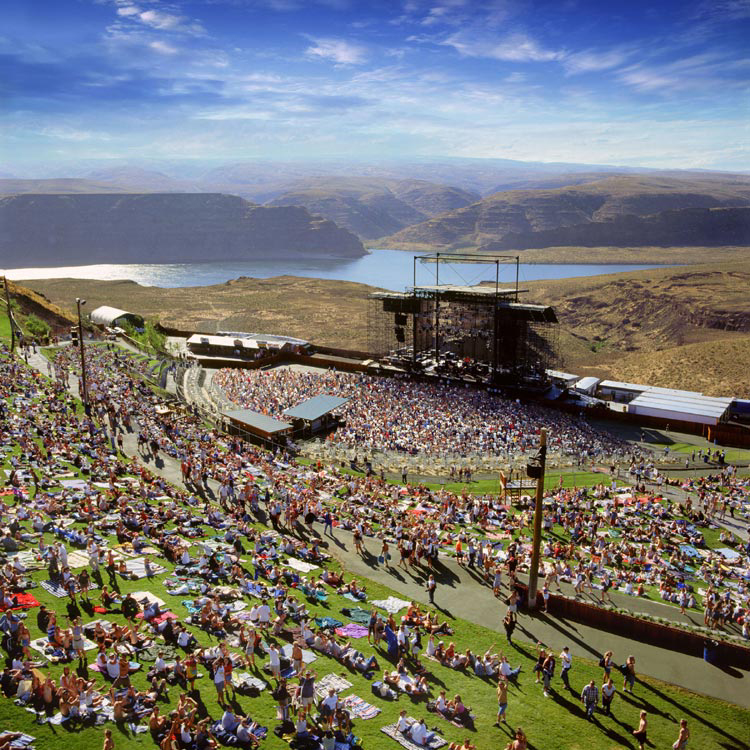 Gorge Amphitheatre, originally known as Champs de Brionne Music Theatre, is an outdoor concert venue in Grant County, Washington. The venue is situated near Columbia River just 9 miles west of George. The venue is currently managed by the world famous Live Nation event promoter company. It has earned 9 Pollstar Magazine awards for 'Best Outdoor Music Venue' and has been voted as one of the 'Best Outdoor Concert Venues in America' by ConcertBoom.
For a list of rules and further info on the venue please see Gorge Amphitheatre rules
Known for the best concerts and biggest names
Apart from drawing big name performers, the Gorge Amphitheater has also played host to popular music festivals such as The Area:One, The Sasquatch! Music Festival, Area2 Festival, Lilith Fair, Ozzfest, The Vans Warped Tour and Creation festival. The Sasquatch! Music festival takes place on an annual schedule every year on the Memorial Day weekend.
For performing art fans and music fans planning to attend a concert at the Gorge, there are quite a few accommodation options available. Fans can either choose to camp on site the night before or on the night of the concert or they can choose to stay at hotels that offer modern amenities and all facilities and are just a stone's throw away from the Amphitheatre. There are hotels available to cater to different budget ranges. For those who prefer to stay away from the scene of action, there are plenty of hotel lodgings to suit every budget in Quincy.
History
The original venue was owned and operated by Dr. Vincent Bryen and Carol Bryan along with the adjoining winery, Champs de Brionne, which gave it its original name. The venue opened in 1986 with room for 3,000 people initially. Though it later expanded to capacity for 19,000 prior to the purchase by MCA in 1993. Then, in 2006, the venue was acquired by Live Nation.
During its history, the venue was famous for having a gorgeous and stunning view of the Columbia River, Columbia Gorge canyon, eastern Kittitas, and western Grant County. And, given its proximity to a winery, was even planned to be used for growing grapes for wine.
But since its opening, its seen use for big name commercial concerts by some of the most popular bands and festivals around. This includes Area Festival, Creation Festival, Dave Matthews Band Caravan, H.O.R.D.E. Festival, Honda Civic Tour, Identity Festival, Lilith Fair, Lollapalooza, Ozzfest, Paradiso Festival, Rock the Bells Festival, Sasquatch! Music Festival, Uproar Festival, Vans Warped Tour, Pain in the Grass, and Watershed Festival as well as Phish, who has played at the venue 22 times since 1997.
As of 2022, one of the most frequent visiting performers has been Dave Matthews Band, who have played 70 shows at the venue. Traditionally their visits include a three-night run during Labor Day weekend. The venue also famously hosted Pearl Jam who played concerts that were recorded and released as a box set.
What Is It Like At Gorge Amphitheater
First, the venue is designed to have everything guests could want in one singular location. So that means plenty of drink and food stations for all the refreshments you could ever want. On top of that, the refreshments offered cover a wide-range of dining styles so you're better guaranteed to find something to suit your tastes. On top of that, the merch stands for most events are easy to get to and the venue itself is easy to navigate even while you're still at the gate or the parking lot.
And speaking of parking, multiple gates and exits means that guests will have an easy time getting to their seats. This means shorter lines so you can spend more time getting comfortable before the show.
And what a show it will be. As the venue is designed to have exquisite sound and lighting design so you can expect a clear viewing experience whether you're up in front of the stage or hanging back on the lawn. And no matter where you're seated, you'll likely enjoy a welcoming vibe as the regular crowds are some of the most energetic and possible around.
There's a reason why The Gorge has won multiple awards ever since its opening night!